4 Fathers, 4 Stories: What's the Best Part of Being a Working Dad?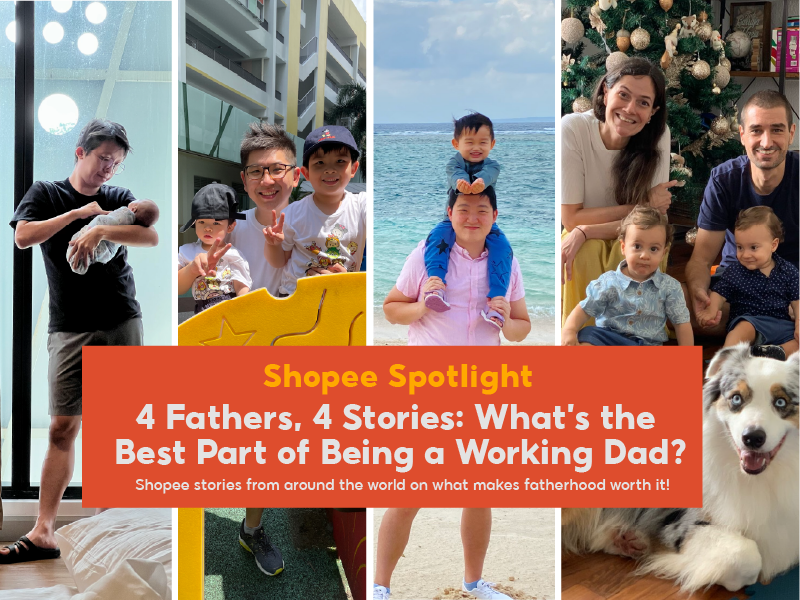 Hear from four of our fathers at Shopee on what it's like being a working dad, and how our work culture helps to support them.
---
1. Coming home to his smiling face after a day at work, the best feeling ever! – Toshi, Japan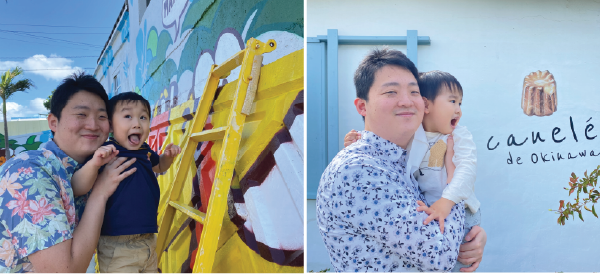 Introduce yourself, and your children… Hey! My name is Toshi, and I'm the Team Lead for the Marketing and Seller Support team in Japan. I'm a father to my son who just turned five this year. He enjoys playing sports such as basketball and is a huge fan of the video game "Minecraft".
This photo was taken…  When we went to an island called Miyako Island! Miyako Island is located halfway between Taiwan and the main island of Okinawa (a tropical island located in the southern part of Japan). We went for a drive to taste one of the best burgers on the island, and the burger shop had beautiful wall art which my son enjoyed imitating!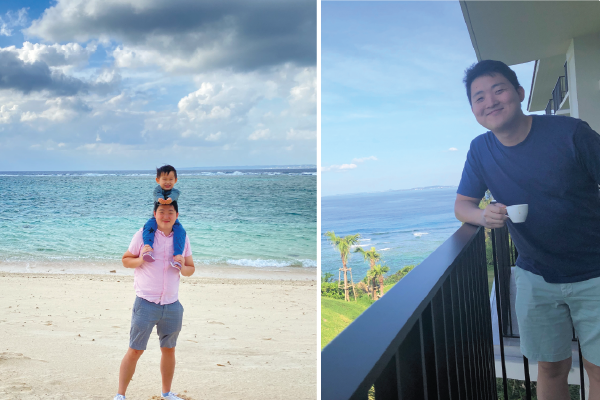 Being a working dad means… Being able to detach myself from work when I come home to his smiling face and cries of 'papa!'. It's the best feeling ever. It also means good teamwork with my wonderful wife. Since she also works full-time, we take turns to drop off and pick up our son from the nursery and his extracurricular activities, and complete tasks like preparing a bath for him. It's not just my wife who supports me, my team at Shopee is open to me working based on my son's schedule as well, and I really appreciate the work culture. 
It's all worth it because… Fathers, your kids will be your number one supporter no matter what, and there is no one who can motivate us more!
2. Learning with my kids at home, while growing with the team at work – Yong Tat, Singapore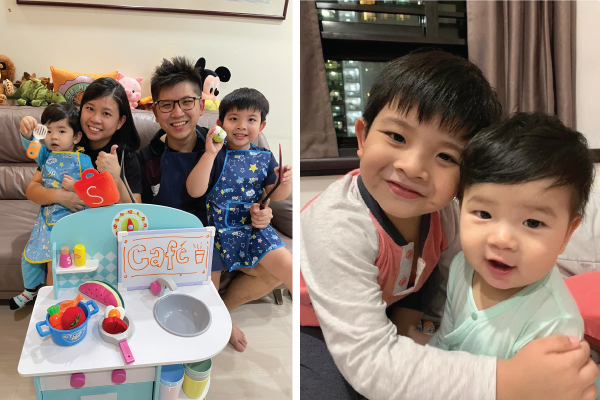 Introduce yourself, and your children… Hello, I'm Yong Tat, and I co-lead the Regional Talent Management, and the Special Projects team based in Singapore. I have two energetic and curious sons who love to cuddle each other. If their moods are bad, however, I'll find them screaming at each other, what a love-hate relationship! 
This photo was taken… During family play-time! My sons and I have a common interest: we love to cook. With the rest of the family 'acting' as customers, my eldest son would set up his own mini kitchen, write his food menu, and role-play as a chef, cooking all the dishes we order using his toy ingredient set. His younger brother will be his 'destructive' assistant, messing up everything and causing culinary havoc. Seeing how the two brothers interact with each other gives us joy, and I look forward to whipping up a few dishes with them when they grow older!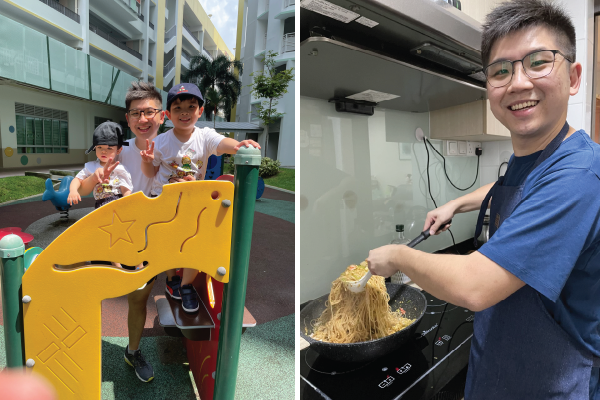 Being a working dad means… Learning with my kids at home, while growing with the teams at work. For example, as a father, I'm tempted to dive straight into sharing what's right and wrong. However, I've realized that it's essential to understand my children's stories and what's causing their emotions. With a listening ear, I hope they see me as part of their personal growth. I am also appreciative of my wife who is always so encouraging, supporting me to be a better dad every day. On the other hand, in the workplace, I am also learning to get views from the teams, and tap on the diversity of perspectives so that we problem-solve collectively.
It's all worth it because…The best gift in life is the gift of life. Fathers should remember that it's both a choice and a privilege to be a dad. Enjoy the process of seeing them grow into little adults with their own interests and personalities. 
3. Joy in providing for my kids, and giving them the best I can – Ricardo, Brazil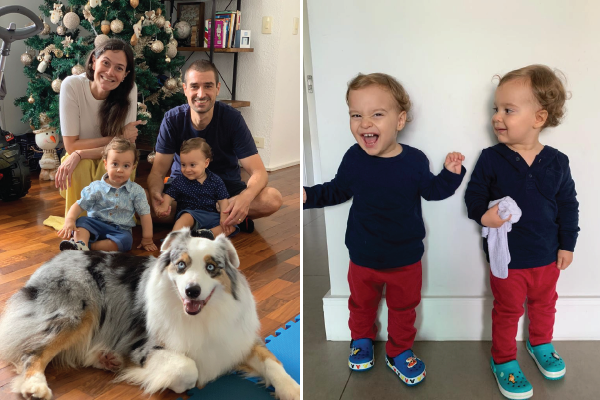 Introduce yourself, and your children… Hi, I'm Ricardo and I'm an Assistant Manager in the Seller Operations Team in Brazil. I'm a father of 3 kids, all boys! My oldest is Enzo, who is 13. He's a family-oriented teenager with lots of questions as all kids do in this period of life. The twins are 1.5 years old. What can I say… They are hurricanes! Full of energy and every day is like a marathon with them as they run, scream and try to climb everything. 
This photo was taken… On Christmas last year, one of the few photos with everyone including Logan, our dog, looking in 'almost' the same direction. It was our first Christmas together as a family.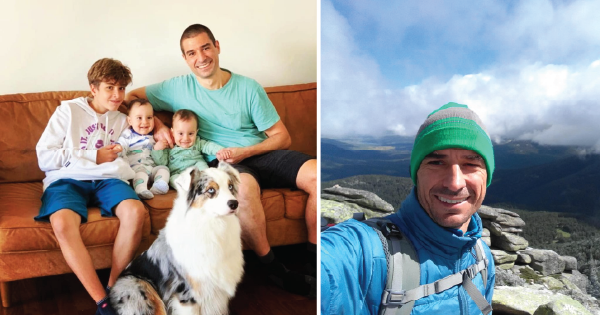 Being a working dad means… Taking joy in providing for them. Being able to give my kids a better childhood than we had, with better education and overseas travels. Together with my wife, making decisions in life now is wholly based on the best choice for them. For example, we moved to a new apartment so the kids could enjoy more space and a pool. It also makes me incredibly thankful for Shopee's culture of flexible work hours, which allows me to enjoy more precious time with the kids. 
It's all worth it because… It's amazing to help them grow. For new fathers, things get easier month by month. In the first two to six months you'll think it's impossible to be a working dad. But babies grow, and you'll find yourself missing moments from a month ago that you'll never get back. 
4. Getting the best of both worlds: achieving your goals at work while enjoying the journey of fatherhood – Wee Kiat, Malaysia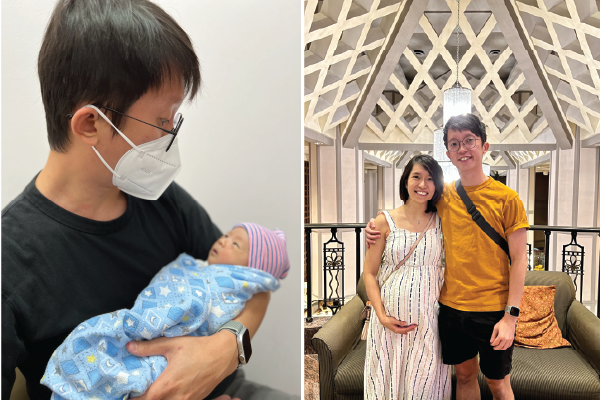 Introduce yourself, and your children… Hello there, I'm Wee Kiat, a HR Business Partner Team Lead in Malaysia. I have a 3 month-old baby boy! There was a lot of anticipation and unknown territory to be explored and, on March 14 this year, I finally received the biggest 'promotion' of my life! 
This photo was taken… The moment when I carried him in my arms when we finally brought him home from the hospital.  All I wanted was to hold him so tight yet I felt afraid that I might hurt him since he's still so tiny and fragile. Meanwhile, he was looking at me, probably thinking: "Daddy, are we ready to see the world out there?"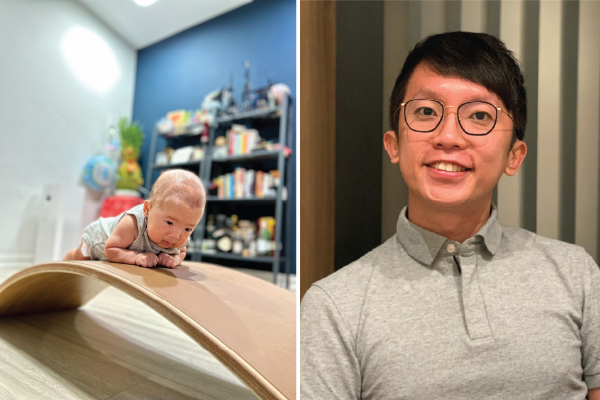 Being a working dad means… You're able to get the best of both worlds: getting a sense of achievement in your work responsibilities and also enjoying the new journey of fatherhood. Both are different and meaningful. You also get a second family at work strongly supporting you which has been amazing. I'm incredibly thankful for Shopee's work culture.
It's all worth it because… Being a father is an adventure! Not many people might admit it, but I must say parenthood is quite daunting at first. As much as he's new to this world, fathers are new to fatherhood too! Just when you think that you have figured out his pattern, he would have changed and developed again, passing another incredible milestone like rolling over, or eating solid food, so the key here is to be consistent and enjoy the journey. A thought that keeps me going is 'if others can do it, we can do this too!'. 
---
Our support for our people extends beyond our working fathers, we want to create a work culture where each of our employees feel empowered to do their best.  Join us for a vibrant and fulfilling career here.
Hear from our Shopee parents as they share stories from their parenting journeys, and how they find support through our Shopee initiatives and communities.
Photos were taken in compliance with local COVID-19 safety measures or before the COVID-19 pandemic.
Read more from the Life at Shopee Blog