Women@Shopee: Building Communities that Thrive
In the spirit of International Women's Day, we got up close and personal with three women at Shopee, the impact they make in their everyday jobs, and their belief in the importance of uplifting others. 
Read on to find out what they love about being a woman, how they feel supported at work, and their advice for women out there to live strong, joyful and fulfilling lives. 
---
Hello, ladies! Tell us about yourselves, and introduce what you do here at Shopee.
Suravi (S): Hi, I'm Suravi! I came to Singapore from the UK, and joined Shopee's Quality Assurance Engineering team. My role ensures that the Shopee app can perform at the highest standards for our users. For example, making sure newly added features function correctly before being rolled out, and eliminating possible glitches. It's a job that requires high standards, and I really enjoy that. 
Yi Ling (Y): Hello, I'm Yi Ling from the Regional CRM Operations team. My team implements marketing strategy campaigns by leveraging CRM technology and data. We help to drive customer growth across all our markets by understanding their needs and building loyalty. Marketing trends are ever-changing, and I love the constant process of experimenting and learning to achieve even better results.
Joyce (J): Hey, I'm Joyce from the Finance Process team. My job involves improving the experience of financial processes for employees and teams in Shopee, like ensuring smooth claims and purchases for company projects. Despite my scope relating more to backend work, I appreciate every task given to me and find it meaningful as they form a key part of company operations. It's especially exciting to help set up financial processes for new markets overseas!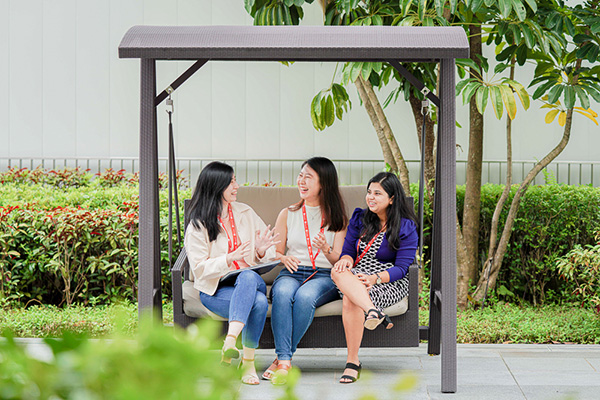 What do you love about being a woman?
Y: The best thing about being a woman is our strength. We can be confident, resilient and compassionate at the same time, and navigate even the toughest situations with an empathetic yet rational mindset. I think that's a beautiful and powerful gift.
J: I enjoy the bonds that women build with each other. We can be highly empathetic to each other's moods during tough times, and yet really enthusiastic when we have 'girl talks' with our close friends. It makes me smile when I see ladies excitedly chatting with one another going "yeah!" when they're really engaged in conversations. I also love how even if it's someone I'm meeting for the first time, I can easily build relationships through common topics like fashion or my never-ending quest to stay fit.
S: I love the variety of opportunities there are for women, be it in sports, fashion, technology or in any other field. The world may not always be fair, but women have never stopped trying to make their mark in every field. I love the feeling of empowerment that I get from my achievements.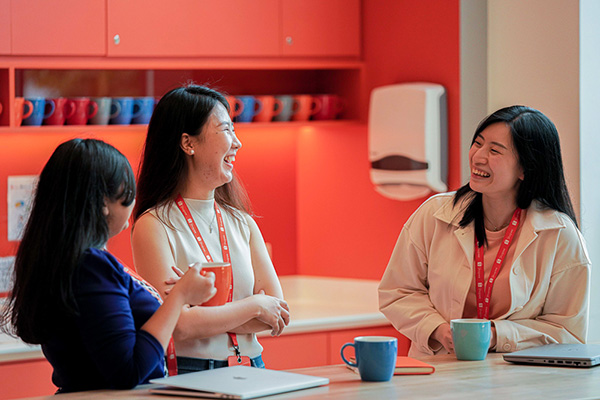 Could you share about a challenge at work? How do you feel supported?
S: Starting a job in a new country is an experience that requires a lot of change. I was guided by two women, my project lead and mentor at work, who were extremely supportive and knowledgeable, and helped me grow in my early days at Shopee. They were my role models. They treated me equally among my colleagues, creating an environment of trust and harmony, and these thoughtful practices really helped me grow. Thoughtful touches like company-subsidised mammogram screenings are really appreciated as well.
J: We have a work initiative called the Women@Shopee circles, which has been refreshing and comforting for me. It brings female employees across various life stages, from interns, full-time employees to new mothers together in an open and honest space for sharing, with a great culture of trust and confidentiality. Some topics we discuss include communication, such as how we can best bring our point across. Additionally, we created a shared online sheet to exchange tips to solve, and tide over challenges faced. I truly feel supported by the women here at Shopee, it's like talking to a group of sisters. 
Y: I was thrilled to attend the recent live session 'Bringing out the Confidence in You with Love, Bonito' organised by Shopee for employees. Rachel Lim, the female co-founder of the Singaporean blogshop Love, Bonito shared about her journey of entrepreneurship, and having the courage to try for what we want to do or become. We also got the opportunity to learn about our own style statement, and be comfortable with ourselves. It was such an inspiring experience.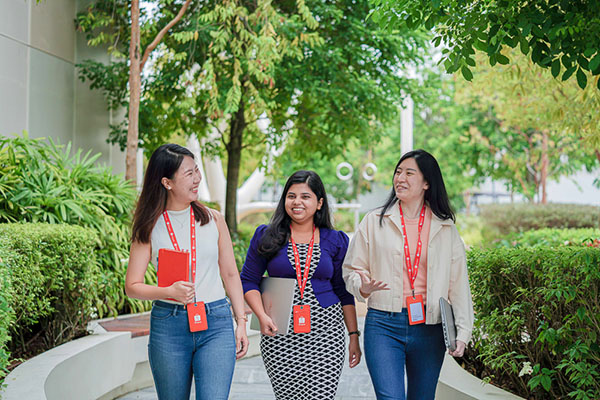 Support at work helps to create an empathetic community. Share about an occasion when you supported someone else.
S: I think it's my day-to-day practice to help, support, and work with my peers, many of whom are women at Shopee too. It can be simple things like collaborating with others, making sure they are heard, and providing them with the best possible guidance to resolve it. I hope to support others too through acts like being present, and sharing experiences. 
Y: For me, my team has recently received many new joiners who are fresh graduates and require time to be onboarded and trained. It was fulfilling to share my knowledge and passion for technology with my new teammates. 
J: Well, I do my best to notice and care more about others. For example, I collect everyone's birthdays, and would usually be the first to congratulate them on their special day. I also note our food preferences and dietary restrictions, which comes in handy when we have team lunches so everyone has something they can enjoy. These small things help bring us closer not just as colleagues but as a work family.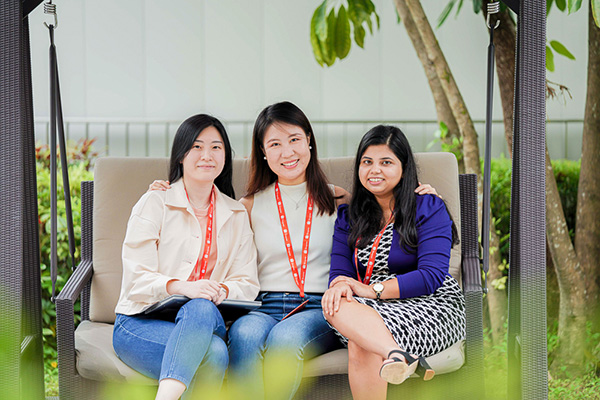 What advice would you like to share with other women?
S: Dream big. Having a dream for yourself and the future is a great thing to have. Ask yourself what you want to do or become. It will give you the 'hurray!' to wake up every day, bring you the energy to work on the things you need to, and keep your mind focused. If we can live each day looking forward to the hope and joy of a future dream, our life will be a real adventure!
J: Community support is really important. I've received support from seniors and colleagues, and it helps me understand that I am not alone. Others may face the same challenges, and you might be in a position to help others too. Find the courage and openness to speak to your circle or other women when you need to.
YL: Prioritise time for your personal growth and aim to be a better version of yourself each day. As women, we play various roles at each stage of our life, and have the potential to grow and achieve so much. Also, be sincere to others as you develop your career, and you'll find yourself surrounded by amazing people who support you and whom you've supported. As the saying goes: "A rising tide lifts all boats".
The Women@Shopee programme aims to involve all employees to create a safe, welcoming and vibrant environment for women at Shopee, by offering a wide range of development opportunities, strong communities of support and ways to build better wellbeing. Through learning sessions, wellbeing initiatives and benefits targeted at women, this programme led by women hopes to nurture and celebrate women from all walks of life.
---
Inspired by Joyce, Suravi, Yi Ling's sharing about women at Shopee? Explore a career with us here.
Watch this video for more stories from our inspiring Women at Shopee, as they share uplifting messages for fellow women everywhere.

*Photos were taken in compliance with local Covid-19 safety measures or before the Covid-19 pandemic.
Read more from the Life at Shopee Blog