Shopee Interns Share What It's Like to Work at Shopee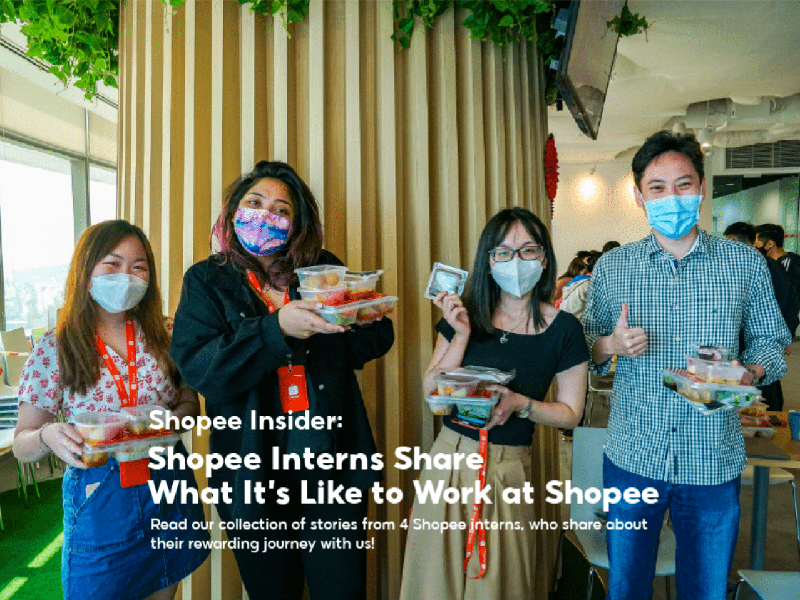 Have you ever wondered what life as a Shopee intern is like? We've put together a collection of four stories from Jynn, Emilie, Zana and Adrian to give you an inside look into their Shopee internship experiences!
---
1) 3 Important Career Lessons that I Learnt As A Shopee Intern, by Jynn K.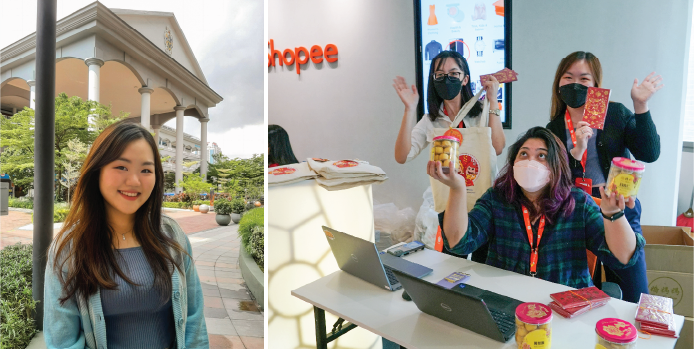 It's no secret among my friends in school that Shopee was my dream internship company, and the first one I applied to! I've now completed my internship, and if you were to ask me, 'Is Shopee a good place to work?', my answer would be a resounding yes! As an intern, I got to experience Shopee's wonderful work culture within the People team. I would like to share three important lessons that I learned, that I'll carry with me wherever life leads.
#1: Every opinion matters! I've always had this preconceived notion that as an intern, I would have to just do as I am told by my seniors. I could not be more wrong when it comes to Shopee's work culture. My team's seniors constantly asked me for my thoughts and acknowledged my contributions. Here, my opinions are truly valued. I learnt that every voice matters, no matter how soft that voice is.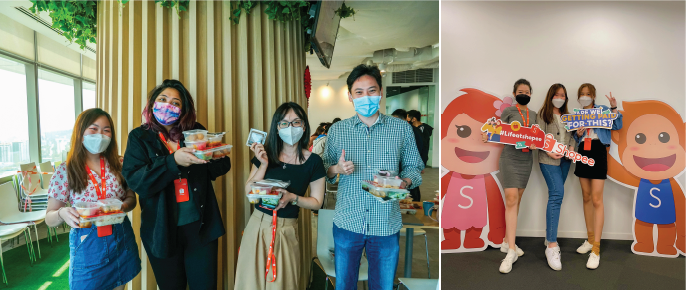 #2: Get out of your comfort zone. When I was given tasks to complete as a Shopee intern, honestly – some of them felt very daunting. I had to keep reminding myself: it's better to take a chance and learn from mistakes than not learn anything at all. Having my manager and team there to guide, support, and gently push me out of my comfort zone gave me the confidence to take things head-on and develop my skills. Lesson learned: be brave!
#3: Keep expanding your horizons. In our very first conversation, my supervisor explained that she wanted to train my thinking process rather than give me all the answers. This has stuck with me. She has consistently challenged and provided constructive feedback, followed by the space and guidance to work towards a better solution. Always work to improve yourself.
2) From Shakespeare to Shopee! How a Literature Undergrad Became a Shopee Business Development Intern, by Emilie T.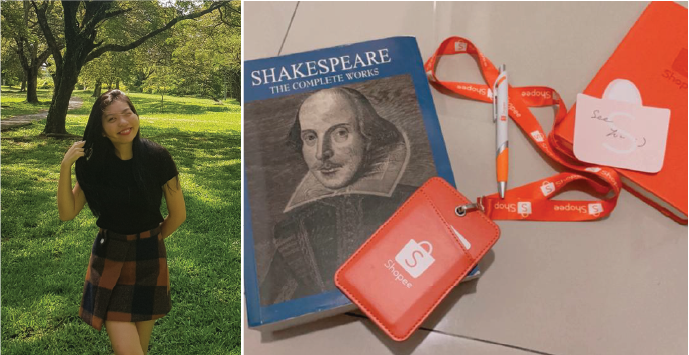 I am an English Literature undergraduate. People tend to ask, "So, what will you do with literature?". Don't get me wrong, I enjoy reading and writing; but I've always been intrigued by the world of business and wanted to explore it. Despite my doubts due to my unrelated course of studies, I took a leap of faith and applied to be a Shopee intern and was accepted due to my strong interest in Business Development. Needless to say, I was over the moon!
Unlike what you see in movies, being an intern meant no coffee-making. Instead, my team leader gave me the opportunity to take on the responsibility of a Relationship Manager where I could manage sellers, and grow their e-commerce businesses. Sometimes, the question, "Can I really do it as a literature student?" appeared in the back of my head, but it was always quickly overridden by new knowledge and fulfilling experiences.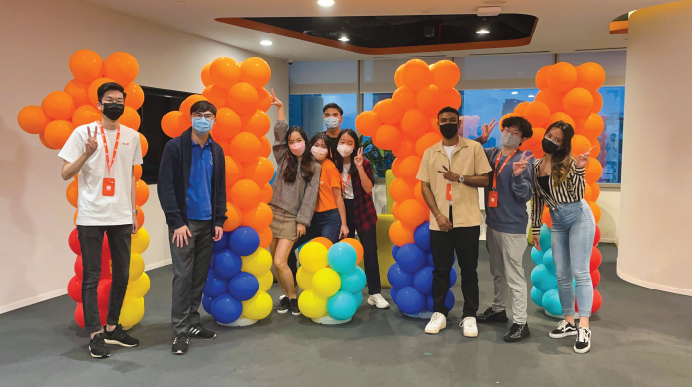 None of my teammates doubted me because of my background. Hence, it increased my confidence to voice my opinions and execute my ideas. Together with Shopee's working culture which constantly exposed me to new excitement and challenges, I was pushed to move forward and think faster.
After managing real clients under a high-priority fashion project for a few months, my team leader saw my passion and my growth in skills that were well suited for the role. I'm happy to share that he invited me to convert to become a full-time employee at Shopee, where I will continue to explore the world of Business Development and e-commerce. I've truly learned that there are no limits, so don't hesitate to reach for your goals!
3) My First Internship Experience: Joining the Shopee Family! By Zana Y.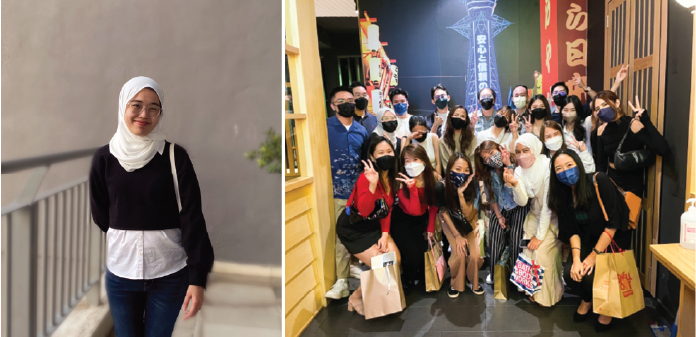 You may know of Shopee as the leading e-commerce platform in Southeast Asia and Taiwan. However, my experience as a Shopee intern showed me that the biggest reason to love the company is its working culture. This started right from my first day in the office, where I received a thoughtful welcome gift bag with stationery and a Shopee notebook, along with my laptop. The onboarding briefing that morning was sweet and simple, and I felt prepared to start my journey. I was also fascinated by the company's facilities, especially their pantry! 
My manager welcomed me to the Marketing team, and they introduced me to the projects that I would work on. It was a good learning experience working with brands and preparing communication materials during our campaigns. E-commerce typically works in a fast-paced environment, but I value the support that my team gave me which helped me adapt to it quickly. Their warmth and excitement about their jobs never failed to lift my spirits.
My experience as a Shopee intern really showed me that great work is the result of a good environment and a good team. Sure, the pantry was amazing, but what I loved the most about Shopee was its working culture. The employees are friendly to one another, and we treat each other like family. I always felt included. My opinion was valued during team meetings, I was invited to team dinners and I even did a gift exchange for Christmas with my team. So, if you were to ask me: is Shopee a good place to intern at? My answer would be yes! I feel incredibly lucky to have had my first ever internship at Shopee.
4) How My Shopee Internship Transformed me from a Student to a Growth-Oriented Professional, by Adrian C.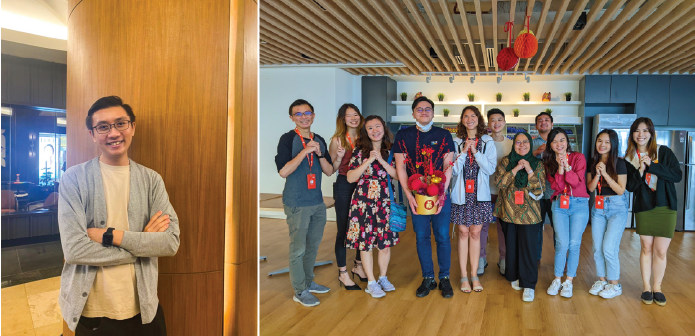 It was the first time I entered the world of Business Development. As a student turned Shopee intern under the Shopee Apprentice Programme (SAP), I was curious and had many questions about this particular field. However, Shopee lived up to its name as a company that embraces anyone who is willing to learn about the fascinating world of e-commerce. 
From supportive colleagues that drive your learning engine, to the talent management team that actively monitors your development, Shopee is an endless world of learning. In fact, your mistakes may even bring attention to a potential area of improvement, and become the starting point for an entirely new project! You may also be wondering: what does a Shopee intern do? Interns are treated as trusted employees and given opportunities to pitch and champion their work. Fret not! Your helpful colleagues will also be there to guide you every step of the way. For example, I researched potential sellers and brands to onboard Shopee Mall, and worked on strategies to attract and retain Shopee users through campaigns and initiatives. I also got to launch a market survey to understand customer perception of Shopee Premium, an exclusive in-app space within Shopee Mall that enables luxury brands to connect with shoppers.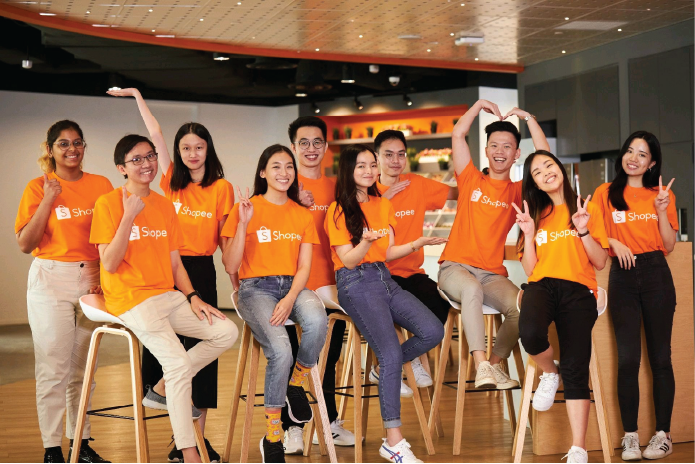 Shopee's vibrant and fulfilling working culture can be seen in its everyday office life. From the friendly morning greetings at the office to the impact-driven conversations in the meeting rooms, everyone in Shopee brims with enthusiasm! My journey as an intern felt like a thrilling and fulfilling rollercoaster ride, transforming me from a student to a growth-oriented professional.
---
Inspired by our four Shopee interns? Join us for a growth-filled career here.
Watch this video as Shopee interns from different teams share key insights from their learning experiences during their journey with us.

Photos and videos were taken in compliance with local COVID-19 safety measures or before the COVID-19 pandemic.
Read more from the Life at Shopee Blog